Alice Shields is an American composer particularly known for her work in vocal music, opera and electronic and computer music. Additionally, Ms. Shields has created many pieces for dance and voice, as well as chamber music. Among her electronic operas, Apocalypse was released by CRI Records, and Shaman (1987) and Mass for the Dead (1993) were both premiered by the American Chamber Opera Company.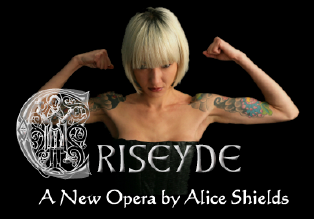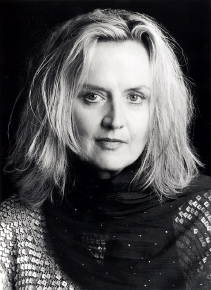 Unique among modern classical composers, Shields has been a professional opera singer, performing traditional and modern roles at the New York City Opera, the Opera Society of Washington, D.C., the Clarion Opera Society in Italy, and Wolf Trap Opera. Since 1991 she has performed Nattuvangam (South Indian rhythmic recitation) for Bharata Natyam dance-drama at Wesleyan University, Julliard School, the Asia Society, and the American Museum of Natural History, and since 1996 has studied Hindustani raga singing with the Bangladeshi singer Marina Ahmed Alam, herself a student of the internationally-known singer Pandit Jasraj.
Alice Shields received the Doctor of Musical Arts in music composition from Columbia University, studied European classical voice with the soprano Helen Merritt, Hindustani classical voice with Marina Ahmed Alam, and Nattuvangam (South Indian rhythmic recitation) with Swati Bhise and briefly with T.S.Kadhirvellu.
Criseyde marks Ms. Shields' eighth opera. It joins the ranks of her works Apocalypse (1994), Mass for the Dead (1993), Wraecca (1989), Shaman (1987), Odyssey 3 (1975), Odyssey 2 (1970), and The Odyssey of Ulysses the Palmiped (Odyssey 1) (1968).