News
IN DEVELOPMENT
The Wind in the Pines (2018) a commission from Chamber Music America for soprano, theorbo, oud, harp, alto flute, alto recorder and percussion will be premiered by the Eurasia Consort in NYC.

Zhaojün - The Woman Who Saved the World (2018), a chamber opera for soprano, baritone and 7 instruments, was performed in concert by the Association for the Promotion of New Music on Nov.20, 2018 at the Baruch Performing Arts Center to the enthusiastic acclaim of the audience, and will now be reaching out for its stage premiere.
---
Textura calls the whole album "a magnificent survey of the electroacoustic field."
Sample the piece and download the album: https://currentsacacomposers.hearnow.com/?fbclid=IwAR2Wpwl2E9pZ6eVga98LQADQsP1IH8HrmxQ1kb_xRhthnOgFriaJCiXW6ys
---
On December 22, 2018 ACA released CURRENTS - Electronic Music, a collection of 14 pieces of electroacoustic music by contemporary American composers, featuring Alice Shields' White Heron Dance. Other composers include Beerman, Gibson, Greenbaum, Gressel, Howe, Kreiger, Miller, Semegen and Sollberger, Mark Thome, Thompson and Trombly.
Available on iTunes, Apple Music, CD Baby, and Deezer; at other online services including Spotify Free; and on physical CD format. Request review copies at info@composers.com. More info here: https://currentsacacomposers.hearnow.com/currents
---
Shields' new one-act chamber opera ZHAOJÜN – The Woman Who Saved the World will be premiered in concert on November 20, 2018 by the Association for the Promotion of New Music, NYC, conducted by Carl Bettendorf. Shields' music and libretto is based on the life of Wang Zhaojun, a Chinese woman who established peace between China and Mongolia in 33 B.C. The opera tells of her solution for our current environmental destruction and violence: in a remote mountain setting in north China, she arranges a secret meeting with her former slave master, the Emperor, who had sold her as a peace offering to the Mongols.
---
"...universal grandeur, loss and regeneration, divinity made manifest — the subjects of compositions in this Festival by Alice Shields." — Jean Ballard Terepka, TheaterScene.net
---
Alice Shields' new work, White Heron Dance, will be presented at National Sawdust on July 14, featuring Noh Theater performer Mayo Miwa and video by artist Tom Barratt. Part of the 2017 NYC-Electroacoustic Music Festival, the program, "Ancient Voices of the Computer" includes works by Joel Gressel, Jeff Hall, Stephen Dydo, Maurice Wright, and Joe Hudson, and is curated by the Association for the Promotion of New Music. Tickets can be obtained at nationalsawdust.org
The composer writes, "White Heron Dance is a shamanic ritual in sound in which a human being experiences a moment of union with nature in the form of a Great White Heron. I created it from the cries of herons, hawks, eagles, songbirds and the human voice. I study Noh Theater with the Noh performer Mayo Miwa, who suggested the ancient Japanese Shinto ritual Sa-gi Mai upon which the piece is based. I recorded her singing the ritual song in the folk style used by the Shinto priests and in the elaborate Noh recitational style."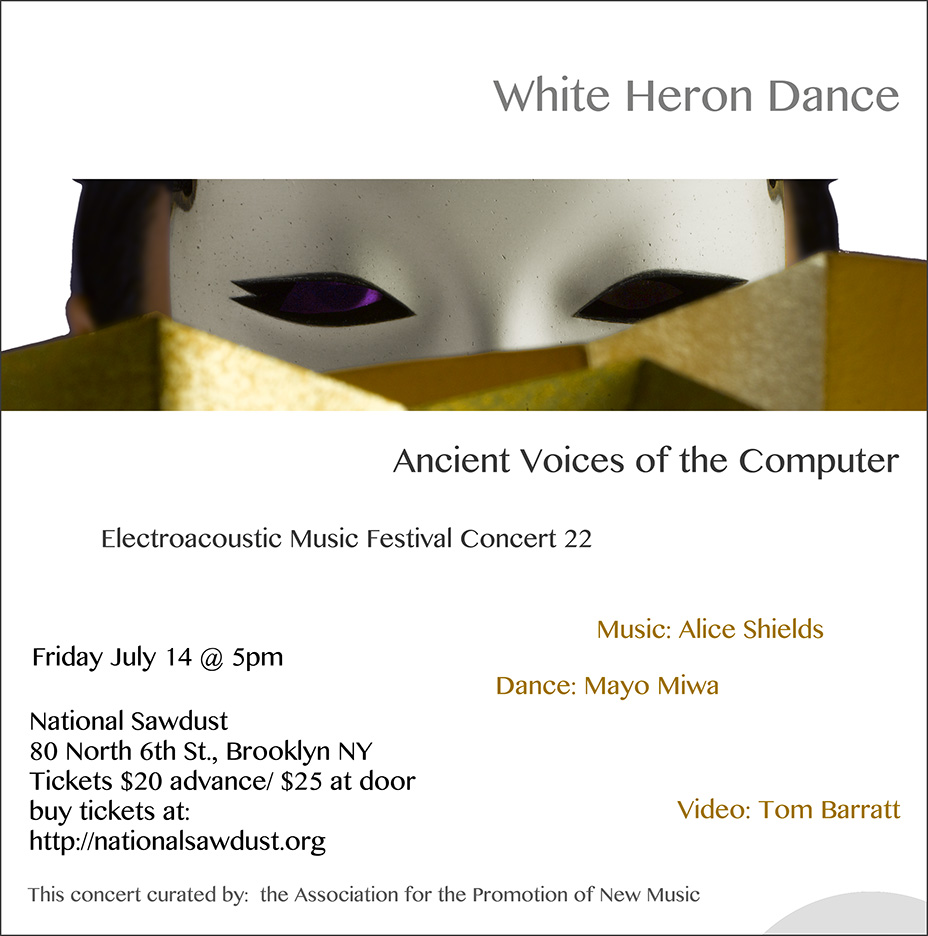 ---
Alice Shields' new work, White Heron Dance, will be presented at the National Opera Center on April 17, featuring dancer Mayo Miwa. The program, produced by The Association for the Promotion of New Music and entitled "Computer Music Meets the Forces of Nature," will begin at 8pm, at 330 Seventh Avenue, NYC. Tickets can be obtained at m.bpt.me/event/2911742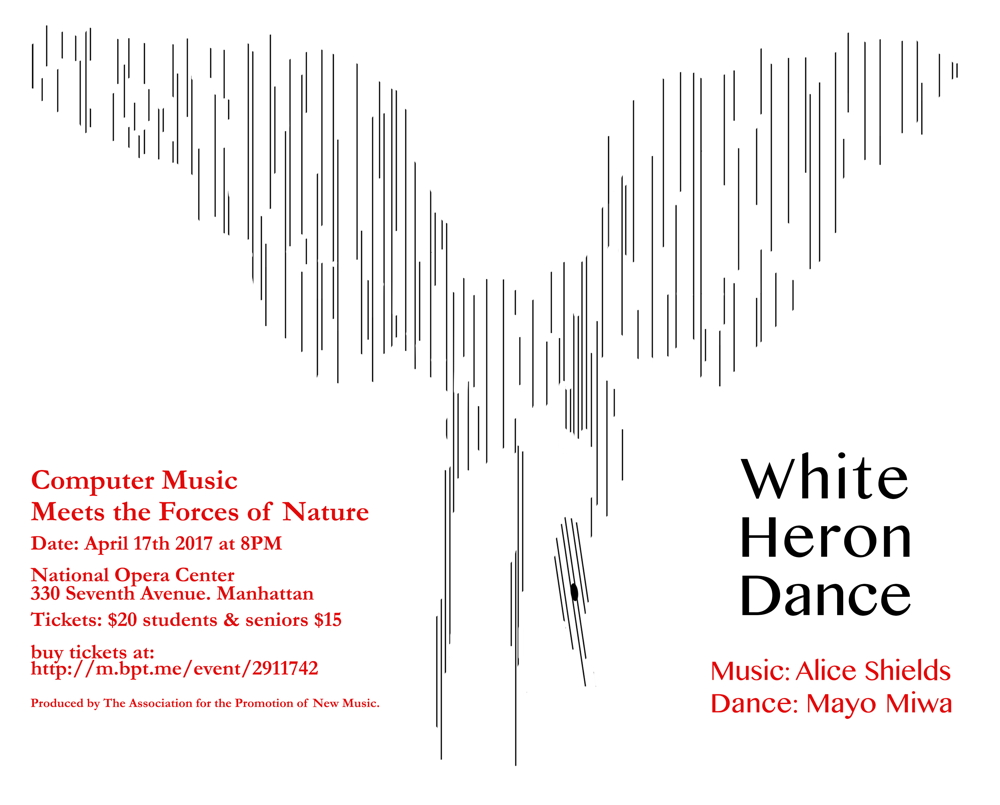 ---
A concert presentation of The Mud Oratorio, a 51-minute computer piece for dance theater, with music and libretto by Alice Shields, will be presented by the 2016 New York City Electroacoustic Music Festival at The Playhouse of the Abrons Art Center, 466 Grand Street (at Pitt Street), on Manhattan's Lower East Side. For more information or tickets, visit their website: nycemf.org/2016-festival/
The Mud Oratorio was originally commissioned by Dance Alloy of Pittsburgh and Frostburg State University in Maryland. Shields created the work around two Nature Conservancy swamps in Frostburg Maryland whose flora and fauna survived the ice age. The composer's voice narrates, with bird and animal imitations by a local biologist, and sounds constructed by digital sampling and software synthesis. The choreographer in the 2003 premiere at Frostbug State University was Mark Taylor; the lighting designer was Barbara Thompson; the libretto is based on the book Stirring the Mud by Barbara Hurd. You can hear an excerpt of The Mud Oratorio on YouTube.
---
The World Premiere of Alice Shields' new work, Quartet for Piano and Percussion, will take place at the American Composers Alliance's new Firehouse New Music Series on June 4, 2016, at the Firehouse Space, featuring Iktus Percussion. The Firehouse Space, at 246 Frost Street in Brooklyn, is close to the Graham Avenue subway stop on the L line. For more information or tickets, visit the ACA website: composers.com/event/aca-presents-firehouse-new-music-series-hosted-iktus-percussion-june-4th
---
Alice Shields' mini opera, Komachi at Sekidera, will be performed on Tuesday, December 1, 2015 at 7:30pm at the Opera America National Opera Center, 330 Seventh Avenue, NYC (between west 28th & 29th). Performers are Martha Cluver (soprano), Sarah Carrier (alto flute), and Mayuko Matsuda (koto). Costumes by Camilla Huey and Nicole Rauscher. Lighting by Seth Tillett. Admission is $20, reception included.  For tickets contact SMARTTIX at 212-868-4444, or visit their website: tix.smarttix.com/Modules/Sales/SalesMainTabsPage.aspx?ControlState=1&DiscountCode=&SalesEventId=4601&DC=
Komachi at Sekidera is being presented as part of a concert entitled "That Certain Age," a program of short operas about aging with grace and humor, produced by The Aviva Players, Kindred Spirits and New York Women Composers, and will also include works by Mira Spektor, Seymor Barab, Anne Phillips, Haim Elisha and Mario Fratti.
Alice Shields' Komachi at Sekidera: "...fascinating" — Audiofile Edition

---
Composer Alice Shields will be interviewed by Janet Coleman on her program Cat Radio Caf&eacute. Shields will discuss the upcoming December 1 performance of her mini-opera Komachi at Sekidera by Opera America.
---
Composer Alice Shields is included in "The Pioneering Women of Electronic Music &3151; An Interactive Timeline," a feature on thevinylfactory.com. The timeline ranges from 1840 (Ada Lovelace) to, coincidentally, 2014's "The Ada Project." Alice Shields occupies the 1993 space, with mention of her opera Apocalypse:
"A hugely respected composer who has focussed much of her energy on electronic composition in opera, Shields studied at the Electronic Music Centre at Columbia University and has often returned to themes of spirituality and feminism in her work. Her 1993 piece Apocalypse is among the first electronic operas ever created."
Visit the timeline: www.thevinylfactory.com/vinyl-factory-releases/the-pioneering-women-of-electronic-music-an-interactive-timeline/
---
Composer Alice Shields on Virgin Songs for Soprano and Piano, originally part of her electronic opera, Mass for the Dead, and playwright/performer Jonatha Brooke on her musical play, "My Mother Has 4 Noses." Hosted by Janet Coleman and David Dozer. For more information: wbai.org/programupdates.php?programupdate=255
---
North South Consonance presents their concert, "Stile Antico: In the Style of Days Gone By," including Alice Shields' Virgin Songs for soprano and piano, from her electronic ghost opera, Mass for the Dead, at Christ & Saint Stephen's Episcopal Church on 120 W. 69th St., New York, on 23 March 2014, at 3PM. Virgin Songs is sung in Catalan, and will be performed by Siri Rico (soprano), with Max Lifchitz on the piano.

For more information: www.csschurch.org/events/concert-events/north-south-consonance---season-finale/
---
Alice Shields' three songs based on traditional classical Hindustani works premieres in Montreal, Canada, on 8 September 2013. The songs — Ab maan maanle, Aj to ananda, and Sumiran Karele — will be presented by soprano Kripa Nageshwar, mezzo-soprano Danielle Vaillancourt, and pianist Justyna Gabzdyl, at the Iona Room of St. Andrew's and St. Paul's Presbyterian Church, at 2:00 pm. The program also includes works by Szymanowski, Delage, and Delibes. For more information: www.standrewstpaul.com
---
The Lower East Side Festival of the Arts presented Alice Shields' Agnus Dei ("Lamb of God"), for mezzo-soprano, instruments and electronics, at the 18th annual festival on Sunday, May 26th, 2013 at the Johnson Theater. Agnus Dei, which was performed by Shields, is a scene from her electronic opera Mass for the Dead — A Ghost Story, which was premiered by the American Chamber Opera Company in Manhattan in 1993. The scene depicts the character called the Medium praying softly in Latin for the great goddess to come and save us all from environmental destruction, while the Chorus, who intend to kill her, stand around her as dark shadows. For more information: www.theaterforthenewcity.net/526johnson.htm
---
Auditorium Books of Italy has released Le Pioniere della Musica Elettronica, containing an interview with Alice Shields, as well as a recording of Shields' Coyote on a companion CD that accompanies the book. The book can be purchased from Amazon Italy (click here to buy), and a review, in Italian, can be read on the GoldSoundz blog. For more information: Amazon.it
---
Christina Ascher performs Alice Shields' Komachi at Sekidera at Saint Peter's Church, Lexington Avenue and 54th St., on Wednesday, April 24th 2013, at 8pm. Ms. Ascher is accompanied by Kaoru Hinata on alto flute, and Aminda Asher on cello. Works by Theodore Wiprud, Brian Schober, C. Hirschfeld, Ibert, and Purcell are also on the program.
---
Alice Shields will sing her own composition, Apocalypse Song, at the Theater for the New City's 2012 Lower East Side Festival of the Arts. The performance is at the Joyce and Seward Johnson Theater at 155 First Ave., between 9th and 10th streets, on Sunday, May 27th 2012, at 11pm. For more information: www.theaterforthenewcity.net/les.htm
---
Trombonist Monique Buzzarté performs Alice Shields' Mioritza — Requiem for Rachel Corrie as part of the Interpretations Concert Series at Roulette, in downtown Brooklyn, on March 8, 2012. For more information: roulette.org/
---
Alice Shields is assistant to director Robert Kalfin (Amadeus, Yentl, Candide, Happy End) for a staged performance reading of Bart Midwood's, SPY: The Betrayal of Mata Hari, at the Dramatists Guild on December 5 at 7pm. Produced by Mitzi Pazer and sponsored by The Playwrights' Theater of East Hampton. The Dramatists Guild, 1501 Broadway (between 43rd and 44th Street), Frederick Loewe Room, 7th Floor, New York, NY. Admission Free.
---
Alice Shields's Kyrielle, for violin and computer music, is one of seven works featured on the new Airi Yoshioka recording, "Stolen Gold," on Albany Records (TROY 1305). Click here for more information from Albany Records, and buy the CD from Amazon.com.