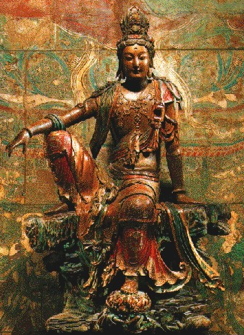 Kuan-yin, Chinese goddess of compassion. In the opera, Zhaojun poses as Kuan-Yin.
Zhaojun - A Woman of Peace

A new Chamber Opera in One Act by Alice Shields
Zhaojun - A Woman of Peace is a one-act chamber opera with music and libretto in English by Alice Shields. Based on the life of Wang Zhaojun, a Chinese woman who established peace between China and Mongolia in 33 B.C., the opera tells of her cure for war and violence: simple acts of kindness. The opera highlights the conflict between patriarchal violence and matriarchal nurturance.
Stay tuned for release of more information, or contact Alice Shields at info@aliceshields.com.
Zhaojun - A Woman of Peace

(pronounced Jah-oh Jün)
Chamber Opera in One Act
for soprano, baritone, chorus (4 people)
and 6 instruments: oboe, harp, piano, violin, viola & cello
An optional instrumental part for pipa (Chinese lute) and a piano reduction are also available upon request.
duration: 1 hour
Music and Libretto by Alice Shields
inspired by classical Chinese theater and poetry
CHARACTERS:
Zhaojun, famous beauty of ancient China, ......................   Soprano
who created peace between China and Mongolia.
Former concubine to the Emperor.
The Emperor .................................................................... Baritone
who had earlier given away his concubine Zhaojun
as a gift to the Mongols, and feels a little gulity.
Chorus ............................................................................... SATB
who assist Zhaojün in her various attempts
to manipulate the Emperor.
Optional Special Performer: The internationally celebrated pipa master Ms. Liu Fang is
interested in performing the optional pipa part in the opera. (http://liufangmusic.net/English).
Optional Visual Art onstage: In performance the opera can feature paintings and
calligraphy by Chinese artist Wang Mansheng (http://manshengwang.com).
Influences for the libretto include the ancient Chinese Book of Songs (Shijing),
Tang dynasty poetry of Du Fu and Li Po, the Yuan dynasty plays The Western Chamber
and Autumn in the Palace of Han, and the Tibetan Guide to the Bodhisattva's Way of Life.
In addition to Chinese folk songs, the music of the opera draws from sources which
represent recent violent conflicts which could possibly have been avoided by the mass
practice of simple acts of kindness, including traditional Balkan songs representing the
genocide in the Christian-on-Muslim war in Bosnia, and several Muslim and Hindu
classical songs of India, representing that conflict.
Home | Biography | Works | News | Recordings | Press | Press Kit | Contacts