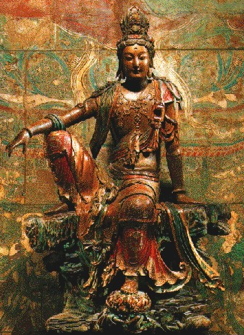 Kuan-yin, Chinese goddess of compassion. In the opera, Zhaojun poses as Kuan-Yin.
Zhaojun - A Woman of Peace
(pronounced Jah-oh Jün)
To stop environmental destruction and create universal peace, Zhaojun steps out of ancient times into the 21st century to confront a character called the Emperor.
Chamber Opera in One Act
for soprano, baritone, optional chorus
and 8 instruments: flute, clarinet, percussion, harp, piano, violin, viola & cello
An optional instrumental part for pipa (Chinese lute) and a piano reduction are also available upon request.
duration: 30 minutes
Music and Libretto by Alice Shields, in English
inspired by Yuan Dynasty theater and Tang Dynasty war poetry
CHARACTERS:
| | |
| --- | --- |
| Zhaojun, famous beauty of ancient China, who created peace between China and Mongolia. Former concubine to the Emperor. | ......................   Soprano |
| The Emperor, who had earlier given away his concubine Zhaojun as a gift to the Mongols, and feels a little gulity. | ......................   Baritone |
| Chorus, who assist Zhaojun in her various attempts to manipulate the Emperor. | ......................   SATB |
Optional Special Performer: The internationally celebrated pipa master Ms. Liu Fang is
interested in performing the optional pipa part in the opera. (http://liufangmusic.net/English).
Optional Visual Art onstage: In performance the opera can feature paintings and
calligraphy by Chinese artist Wang Mansheng (http://manshengwang.com).
Home | Biography | Works | News | Recordings | Alice's Articles on Music | Press | Contacts